PROJECT HIGHLIGHTS
LFC & ENGLAND GOALKEEPING LEGEND 
RAY CLEMENCE HAS BEEN HONOURED WITH A STUNNING MURAL NEXT TO ANFIELD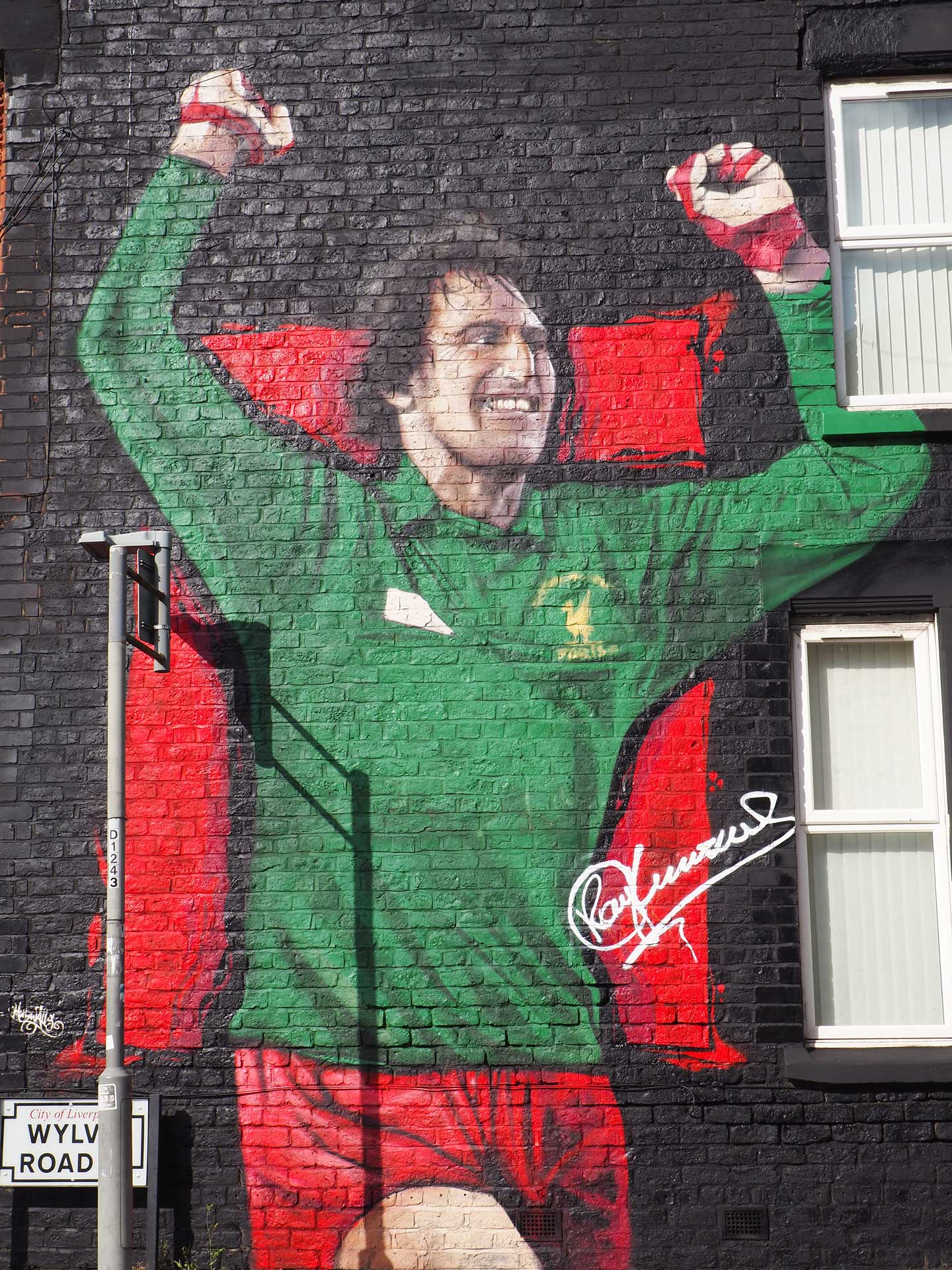 Ray Clemence first arrived in Liverpool in 1967 and has forever been touched by the warmth, kindness & love shown towards him by the people of Liverpool.
It was here he met his wife Vee and had his 3 children Julie, Sarah and Stephen. His career has taken him all over the world…
But even when he returned to Liverpool, playing in goal for Tottenham, the reception that he received from the Kop, and the rest of Anfield, was so overwhelming and positive, it's something he often shares with his family and is a memory which he will cherish for the rest of his life.
The mural was officially revealed Wednesday 8 October 2020 and witnessed by other LFC legends including Alan Kennedy, David Fairclough and David Johnson. Ray's daughter Sarah Freedman also attended with her children, 4 of Ray's grandchildren.
Granddaughter Claudia, spoke beautifully some words about her granddad.
"Ray was desperate to be here today and is devastated that his health won't allow it. He has asked me to say a few words to say thank you.
Ray says that Liverpool Football Club will always have a massive space in his heart, to him there's no city in the world like it.
He is so proud & grateful for this fantastic mural to be done in his honour and would like to say a huge thank you to you Marc Silver and his company, Murwalls.
Thank you, Marc and your friend Jamie Miller who contacted Julie in Florida, to suggest this. Also, to your superb team of artists who worked on this project, Liam, Mark, Danny & Charlie.
We can't go without thanking 2 of Rays ex-teammates, Alan Kennedy & David Fairclough.
They actually started off the painting of this incredible mural, good job boys thank you.
Ray always tells us you were a close-knit squad and is so pleased your friendship continues today.
Also, a thank you must go to Jen Austin and Forbes Duff at LFC who have been great throughout.
Dave Dargan from Starship Group who has helped very much to make this project possible. Cheers Dave.
and last, but certainly not least Chris Davidson for gifting the wall of his home to host Ray. Thank you so much Chris, rest assured you & your family are in safe hands,
All the hard work, talent and kindness that has gone into this stunning mural is a reminder that in Liverpool, YNWA
We hope each & every one of you realise how happy you have made him and all of the family, thank you."
CEO and Founder of MurWalls, Marc Silver added:
"Ray is a footballing legend. MurWalls feel that it is important to pay tribute to icons like Ray, but for them to be able to see it. Lots of nice things are said about special people once they are no longer with us.
We were honoured that Ray and his family were such a big part of this tribute and delighted for Ray to have his image painted so close to the ground he loves and for the fans and people of Liverpool to enjoy every time they pass by".
MAKING OF THE MURAL
VIEW

VIDEO
IN THE NEWS
VIEW MEDIA
 COVERAGE
MURWALLS
VIEW OUR PROJECT HIGHLIGHTS
MURWALLS
NO ORDINARY STREET ART
PROFESSIONAL ARTISTS
Bringing the best artists together under one high-quality brand
Officially Licensed
Authentic and licenced with global brands
Large and Small Projects
From bedroom walls to large stadiums and commercial properties
Limited Editions
Small, limited print runs and includes a certificate of authenticity.